Alrighty it's Friday which means time to pick the winner of the Sweethearts cartridge! yay! Thanks everyone so much for your comments, I really appreciate them :) I used random.org to pick a number from 1-20 (the number of comments) and came up with #15:
Lauren said...
Gorgeous card! Thank you for the opportunity to win this cart!
Congratulations Lauren! Email me (Cassie) at GlueMeetsPaper@gmail.com by next Friday- one week- and I'll get that cart mailed out to you ASAP :)
In other news I have a little blog candy if anyone is interested. Some Disney and Florida stickers and some wedding style embellishments. I'll probably mail these the same day I mail the cartridge so I will draw a winner in a couple days, just leave a comment on this post saying you'd like to be entered.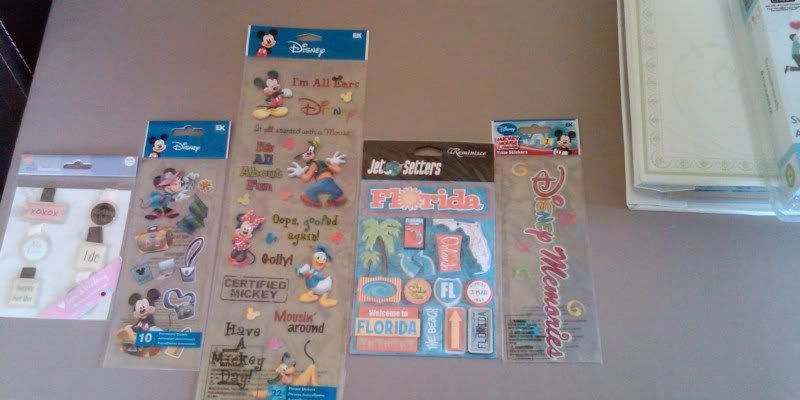 Okay onto today's layout: and YES i will have more cards up here instead of only layouts! I've just been in a layout kinda mode lately :) Today I decided to try something completely different, i'm still a little iffy on how it turned out. I think it's definitely different but not a layout I plan to do too too often. This is the layout map I chose
http://www.pagemaps.com/mar10maps.htm (third one down)
in case you don't go to the link the map shows a LOT of little 2x2 squares to make one 12x12 layout. Since this one followed the pagemap almost exactly I didn't even make a sketch!
So i had my pictures cut at the right dimensions and laid them out on some green paper. the pictures were all taken on one miscellaneous day a week ago, i thought it would be fun to scrap the randomness of a particular day. i knew i wanted a springy type of layout and originally picked green for the background color.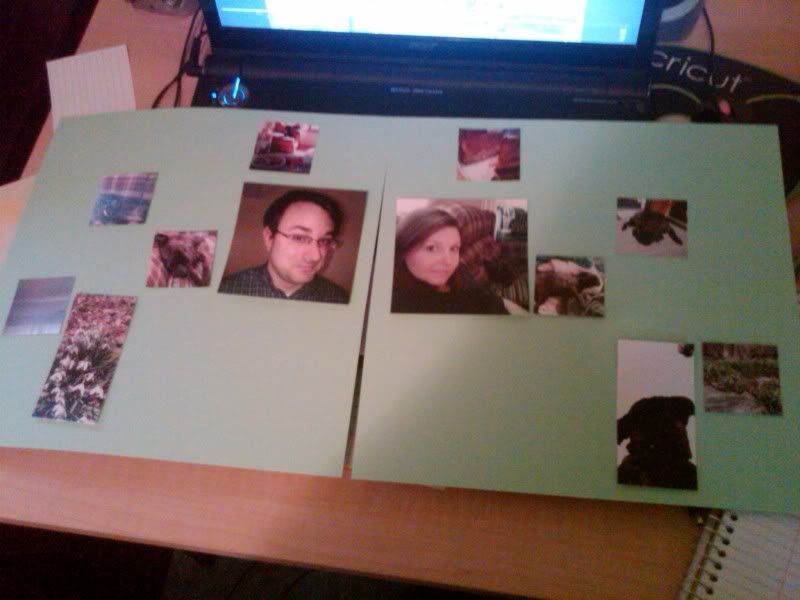 I laid my photo's out and it just looked boring so I thought I'd do a bright pink border to add some more color. I also inked the edges and added some faux stitching. I love the look of stitching on layouts but i don't have a sewing maching and even if I did I don't really know how to use one. So cheater method it is!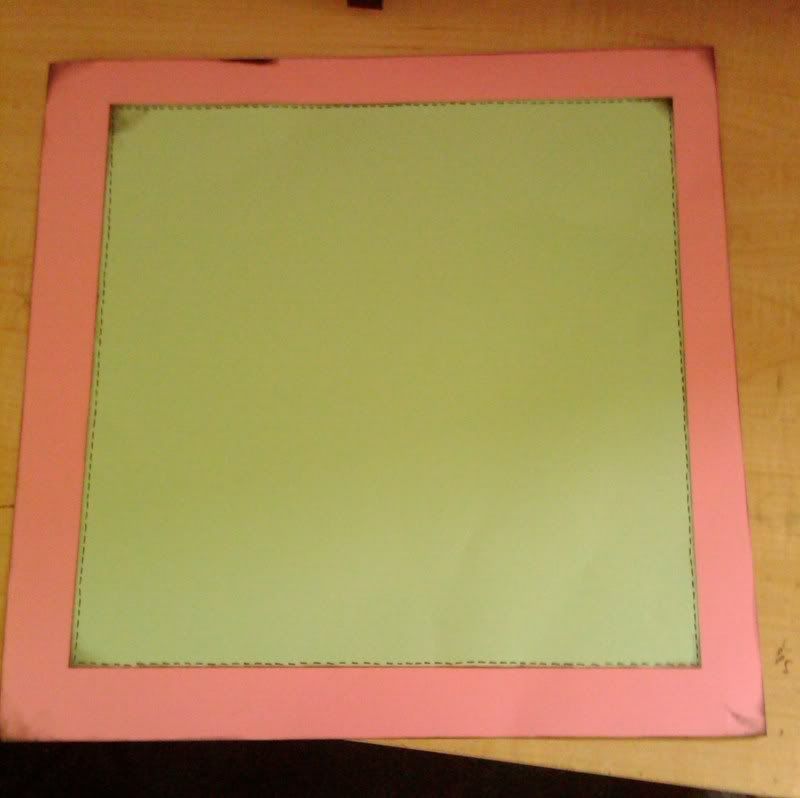 Then I started cutting out my little 2x2 squares of patterned paper (4 different paper types for this layout) and inking them. I also added faux stitching here to give a bit of a quilt like effect since this layout reminds me of quilting squares. This pic shows the square with and without the stitching, I really like the dimension that stitching border adds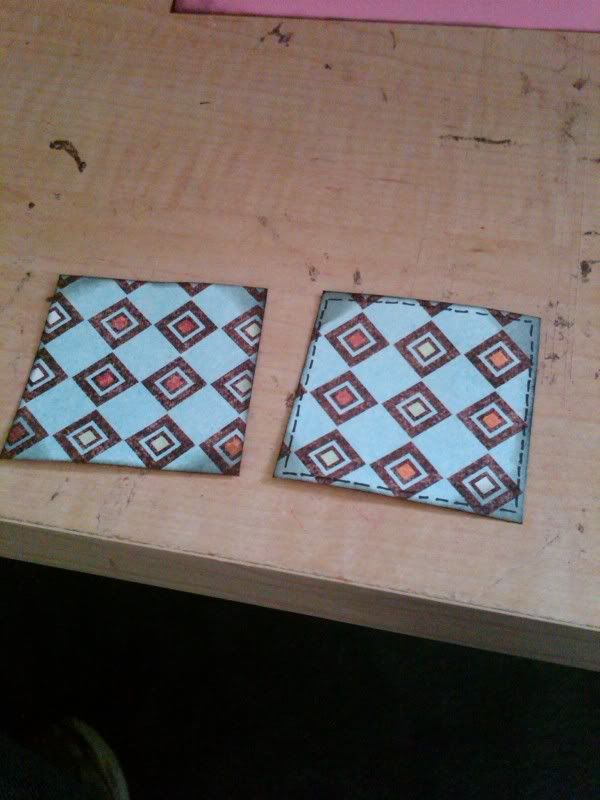 THen I started laying out my photo's and paper squares. not the best pictures in the world- my husband was not in the mood for camera time when he got home from work and his expression shows it! haha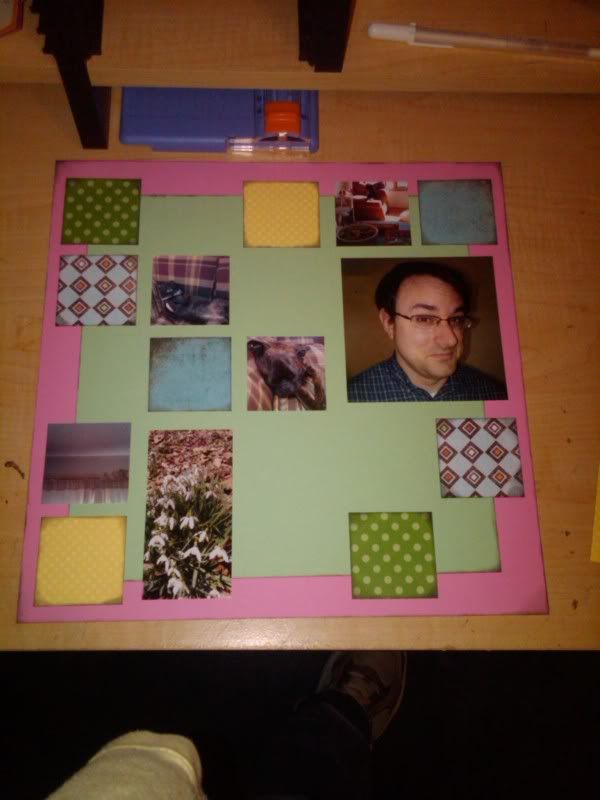 I also wanted to add some cricut accents in place of paper squares. in particular we had a huge ladybug infestation that day (literally hundreds! it was so gross, i had to vacuum them off the ceiling! yechk) so I wanted to include some ladybugs along with flowers. I used to think the ladybugs from the Doodlecharms cartridge were cute, now I just want to annhilate all ladybugs because theyve become such a nuisance! Flowers are from Storybook and SPRING title is from SYI, i ended up cutting this out larger because initially it was too small.
everything was inked before being assembled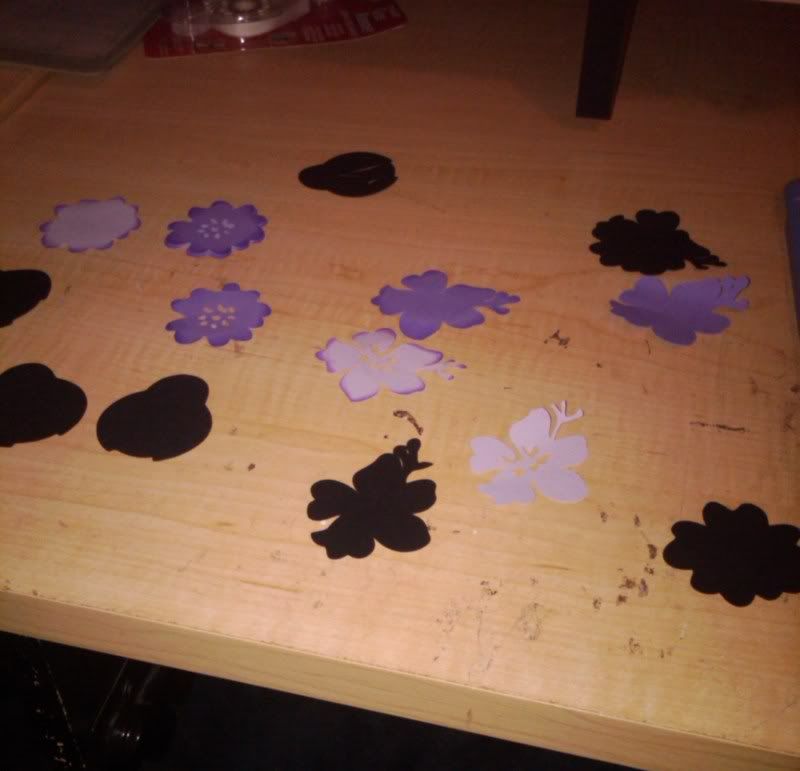 Cricut cuts were pop dotted when added. I also added a strip of white paper with numbers to correspond back to the numbers I adhered to the photographs, so I could kind of have a key to all the little pictures. Number stickers are by basic grey.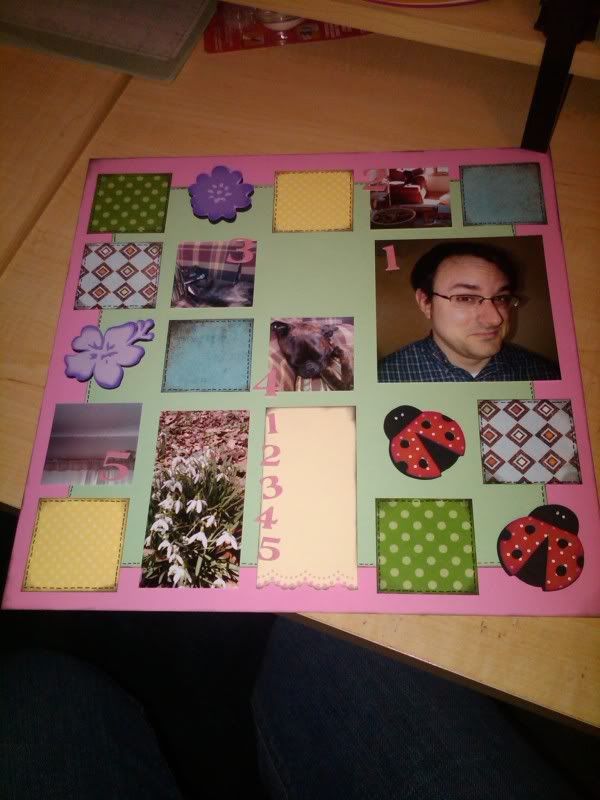 I then repeated this for the second page of the layout just in the opposite order. I then added the title and some MS ribbons on some of the squares and that was it!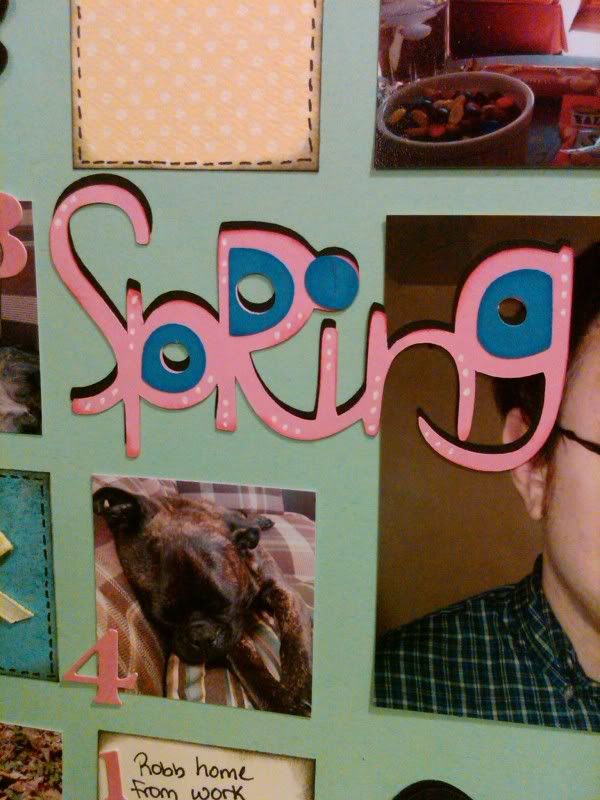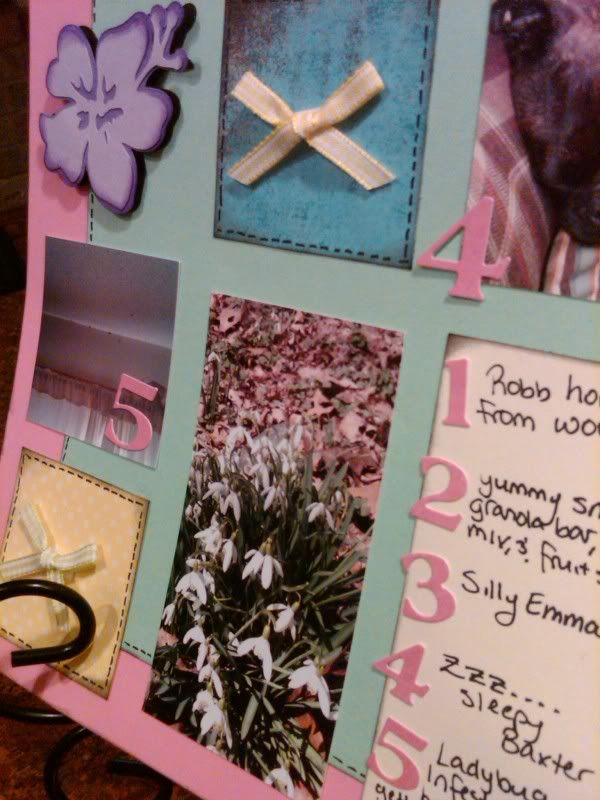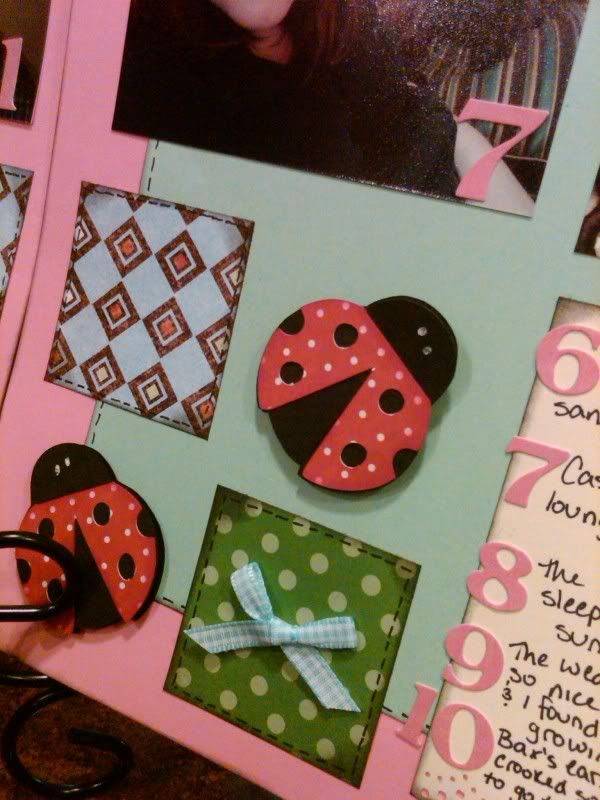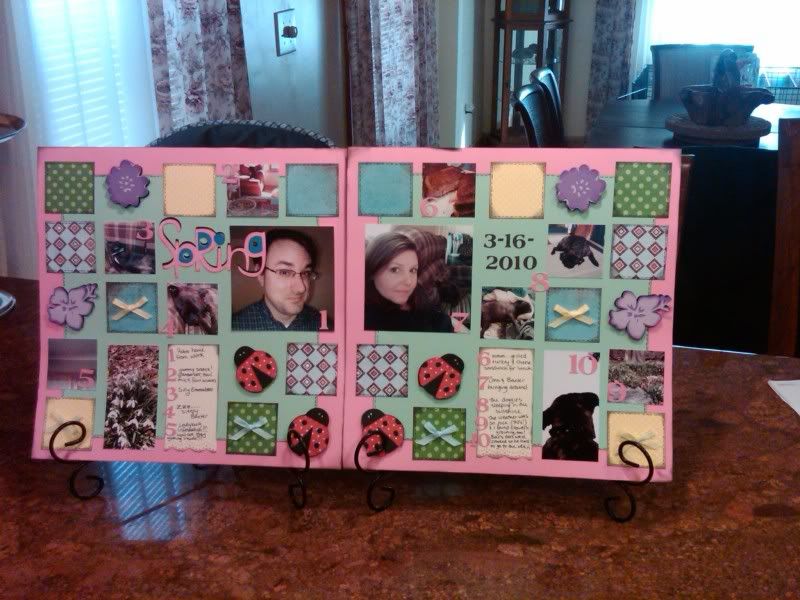 Hope you enjoy!